Hello dolly mixtures, how are you on this (not so bright) and breezy Tuesday?? I feel like it should be Friday already, I have worked so hard over the past couple of days!! I've been thinking about Christmas (again) so please excuse my Christmas related post if you are a bit bah humbug about the whole thing! ; )
Christmas. Loved by some, loathed by others, I definitely fall into the former category! December has always been a special time of year for me and my absolute favourite month of the year. My birthday falls on the twelfth and of course, Christmas is just around the corner after that. I adore the month of December, and the month or so leading up to December. One by one, the shops fill with festive goodies, the television adverts assume their Christmas character, local high streets become awash with twinkling Christmas lights and wish lists are written and fulfilled.
I have already written my Christmas list
, revised it, added to it, and, if I'm honest, am still adding to it now! My wish list has now spiralled out of control somewhat, not because I am greedy and expect to receive everything, but because I like to give hubby a wide choice, so that I have some surprise on Christmas morning when I open my presents. I think hubby has bought the majority of my main presents now, and he is now asking for some stocking ideas for me, so in the spirit of Christmas (long may it reign!) I have put together a little stocking gift-list : )
Christmas just wouldn't be Christmas without a box set! I love Downton Abbey sooo much, I really want season 1 and 2 on DVD to watch over the Christmas holidays!
Chanel levres scintillantes lip gloss in Braise. I love this gorgeous reddy shade and the shimmer. I already own 2 Chanel lip glosses and know how good they are, so I want to add this one to my collection!
Urban Outfitters large peace sign necklace £14.00. I absolutely adore any jewellery with peace signs and would love to add this long chained necklace to my collection.
Lush Gingerbread House Bubble Bar £2.95 - I saw this the other day in Lush and really want to try it! The smell was gorgeous.
La Senza vintage rose pyjamas £30 (pyjamas at LS are currently buy one get one free!) I love La Senza pyjamas, especially comfy cosy ones like these! I always have to have a new pair of pyjamas in the stocking!
And last but not least, gifts to myself in 2012... ; )
Mulberry Evelina satchel £595. Since purchasing my first Mulberry, I have been infected with the bug, and already started thinking about and planning my next bag! I really like the new Evelina Satchel, the style is gorgeously understated and classic. Evelina is new season Mulberry and also features a larger hobo bag, however I think this is a little bit too much of a 'mum' bag for me (giant, all encompassing, a bit blah...)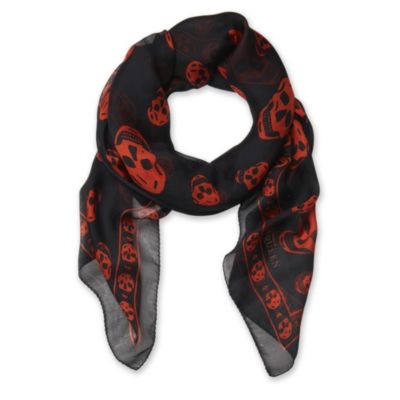 The iconic Alexander McQueen skull scarf £165. I really want a classic McQueen scarf, perhaps with a twist (coloured skulls instead of white on black). Gorgeous for all occasions and seasons, and ever stylish.
Well dolls that's all for today, have you all written your wish lists?? Now it's November, are you starting to get excited?? I really am (in case you hadn't noticed!!) Sooo looking forward to all that is to come!! XOXO