Or you will instead end up consuming copious amounts of wine/gin/vodka (pick your poison) when it becomes ever apparent that the black boot you are searching for does not exist, and the hours you have dedicated in this search have been for nothing.
Bugger. Let me backtrack. I
need
would very much like a new pair of everyday black boots. Leather of course, flat to very low heel, mid calf biker style with perhaps a buckle or two for extra je ne sais quoi. No studs, stars, laces, strange colours mixed in, just an everyday biker boot, perfect for wearing with skinny jeans and dresses alike. Am I asking too much here?? It certainly seems so. Double bugger.
But I digress. Having spent the day searching in my usual shopping mecca (Bluewater), I have found nothing that a)fits b)looks half decent c)doesn't hurt/pinch toes. The few pairs that I had narrowed the search down to on the iPad this morning were all in stock (a miracle in itself), but were just not quite right for a plethora of reasons:
Pair 1: Dune Riff calf boot £120. This pair was item number one on my agenda, the leather looks divine in the pics and the buckles a nice touch. In reality, the size 5 were too big, my heel would not stay flat inside the boot when I walked. The 4 were of course too small. Sob.
Pair 2: Label lab biker calf boot £111 House of Fraser. This time, the boots were too big around my calves, think a small child in a much too large pair of wellington boots. Damn my slim calves.
Pair 3: Lauren by Ralph Lauren Saphira boots, £161 House of Fraser. I had high hopes for these but once again they were too big around the calves. An old lady sitting nearby tried to convince me that they looked good but I was having none of it.
Pair 4: H by Hudson Kepler £180. I also tried on the H by Hudson Horrigan £145. Both were too big, same problem as with the Dune boots, my heel would not stay put. I even had thick socks with me to see if that made any difference, It didn't.
In desperation, I headed to Clarks to see if they had anything similar. Fail. They all looked a bit, dare I say it, mumsy. Which is a shame, as the summer season at Clarks was pretty good this year. Having already persused M and S online, I knew there was nothing there either.
So. All in all today I have concluded that my feet have shrunk a bit, and must be a pretty odd shape as nothing anywhere seems to fit me properly. Short of taking a shoe making (cobbling?) course and stitching my own, I'm going to have to keep trying until I reach the holy grail, the boot prince. I am set to order the following two pairs tonight, and hopefully, something there will fit. (She says as she begins researching shoe making courses in the south east area).
Dune Rallie boot £95. This seem worth a shot, definitely the style I am looking for and with cosy shearling inners. Couldn't find these in store today but they have size 5's online so I'm ordering away.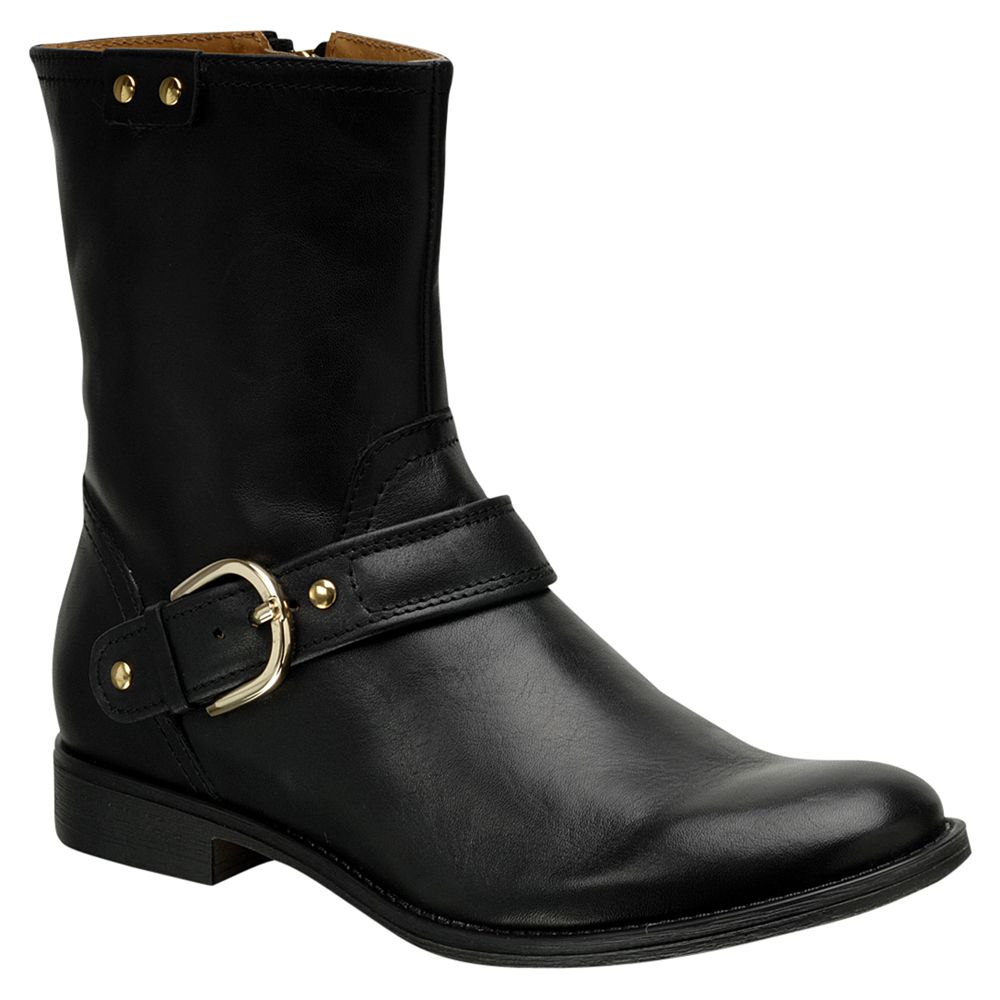 Radley leather buckle biker boots, £127, John Lewis. These could be another contender. Not quite as high up on the leg but long enough not to leave cold ankles.
So that's pretty much the whole boot adventure from today. When I relayed this mini-saga to hubby over the phone he was extremely confused and pointed out that I only bought two new pairs of black boots last winter. 'Well yes, but they are heeled boots dearest. And don't you want me to have nice sensible walking boots, you always moan when I have to walk slowly in heels'... he's still unconvinced. Men never understand sensible shopping logic anyway, I may as well be explaining myself to the rabbit. (Love you really S x)
Finally what I wore today to go on my long and arduous adventure:
Leather jacket - Zara
Beige long line vest - Primark
Stripy long sleeve tee - Cos
Horse print scarf - Dorothy Perkins
Black leather double rivet cuff - Mulberry (a little purchase I made at Cheshire Oaks designer outlet on Tuesday)
Khaki skinny jeans: Zara
Sneakers: Converse
Bag: Mulberry
Apologies for the lower quality photos, our camera gave up the ghost on our recent trip to Yorkshire (more on that shortly) so I have been using my iPhone. A new camera has been added to our joint Christmas list (which is growing longer by the day), so I will have good quality images fairly soon, hurrah.
Wish me luck with the boots... gulp.